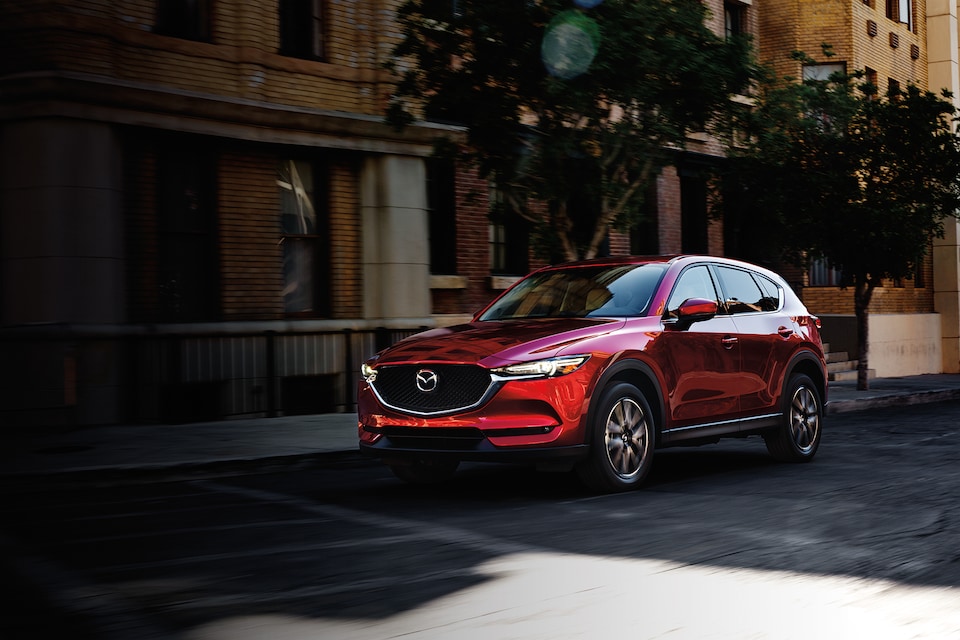 ?
The Mazda vehicle lineup isn't the largest in the number of models, but it is still quite diverse, which is especially noticeable when looking at the three SUVs of the lineup. Drivers around northwest Georgia each have their wants and needs for their next vehicle, but we believe that if an SUV is the type of model you're considering, then either the Mazda CX-3, Mazda CX-5, or Mazda CX-9 will suit you. Which one matches the performance, space, and price you want? See below about the similarities and differences of these SUVs we have for sale!
What Can You Expect from Every Mazda SUV?
The design, engines, and packages of features do vary between the three new Mazda SUVs, but there are several qualities that drivers should expect with every model from the Zoom-Zoom brand. To start, Mazda models, even the SUVs, deliver some of the most fun driving experiences on the road whether you're on the highway or cruising the streets of Atlanta. Each Mazda SUV has SKYACTIV-VEHICLE DYNAMICS with G-Vectoring Control for a smooth, thrilling ride, and high-quality cabin materials provide a refined feel that will impress all.
The Mazda brand is also always on the cutting-edge of automotive tech, from safety features to those that entertain, so see below about what standard and available amenities each of our SUVs deliver!
The Mazda CX-3
The smallest Mazda SUV, the Mazda CX-3 is also the sportiest. Its compactness makes it the lightest of the offers, so the four-cylinder engine does an exceptional job of powering you to excitement while remaining efficient, up to an EPA-estimated 34 mpg highway. Plus, the interior is still plenty spacious with the necessary room in the cabin to make sure five passengers, even with their bags and gear, don't feel squeezed in.
The most affordable of the bunch, even the base model Mazda CX-3 has a sweet suite of standard features, from a 7-inch full-color touchscreen display to blind spot monitoring. Car shoppers can also expect more advanced features, like an Active Driving Display, from the higher trim levels. In short, it's a great option for young professionals around Atlanta that want a convenient, captivating ride for their commutes and weekend adventures.
The Mazda CX-5
There's more power, space, and standard features in the Mazda CX-5 than the SUV above, but it is heavier and has a higher price tag, which is still competitive when compared with other SUVs. It has a 187-horsepower engine that makes sure you aren't bored while also giving you the ability to tow trailers up to 2,000 pounds, which helps if you have items that won't fit in the max cabin cargo room of nearly 60 cubic feet.
The Mazda CX-5 comes standard with features like LED headlights and offers others like a 10-speed Bose® audio system that the Mazda CX-3 does not have, but they share many of the advanced safety and comfort features. The Mazda CX-5 may be the one for you if you're willing to spend a little more for a more versatile cabin, standard features, and more raw power to drive you to excitement.
The Mazda CX-9
While still weighing in below 4,500 pounds, the Mazda CX-9 has by far the most powerful engine, a 250-horsepower four-cylinder, and, with three rows of seats, the most cabin room. Seven passengers or two passengers and over 70 cubic feet of gear fit easily in this SUV, and it has the best package of standard features and materials. It has all-LED exterior lighting and three-zone climate control for the cabin standard, and it has available amenities like LED accent lighting for the cabin and ventilated front seats to help deal with the Georgia heat. The Mazda CX-9 is a wonderful option for parents that have child-rearing duties to handle yet don't want to go for an SUV or minivan that is boring to drive.
Don't Hesitate to Reach Out if You Still Have Some Questions About the Different Mazda SUVs We Have for Sale!
We hope this helps you on your search for the vehicle that best matches all the items on your car-shopping checklist, but if any questions remain, feel free to call, email, or visit our dealership for more info on our Mazda SUVs. You'll find that our knowledgeable staff and friendly atmosphere are part of the reason that so many of our customers enjoy their time spent searching for a new car or SUV at our dealership!