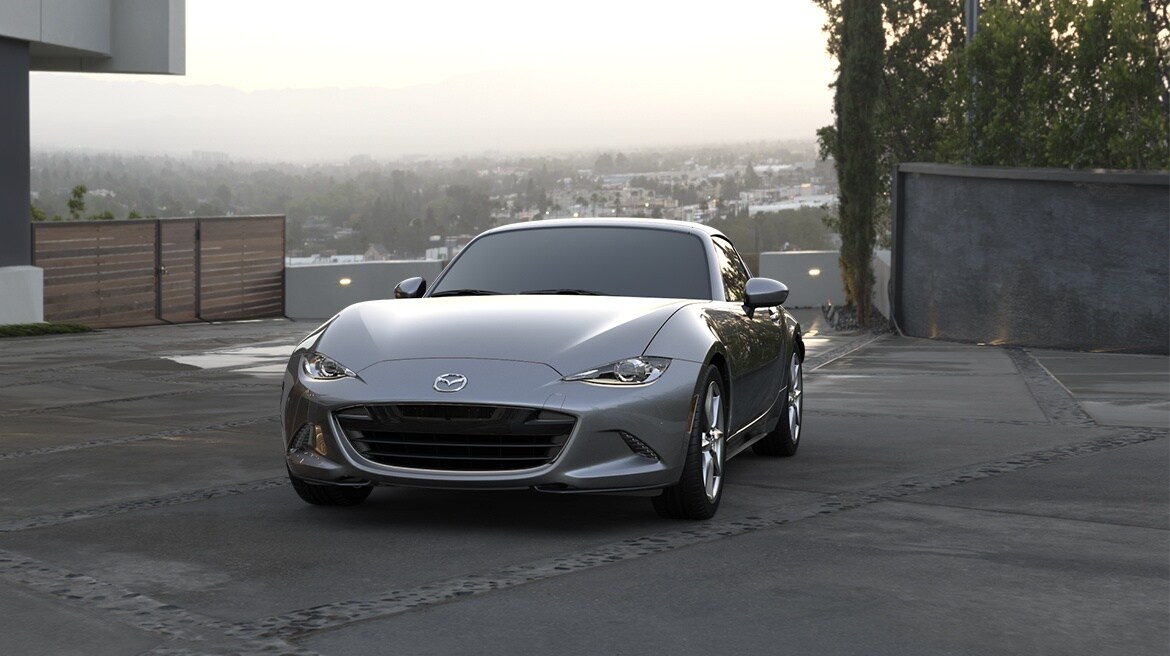 The MX-5 Miata RF represents an exciting evolution of the iconic MX-5 Miata roadster we all know and love. So, what stands out about the RF? Well, a lot of things. But let's start with the fact that it's neither hardtop nor convertible. In about 13 seconds, the retractable roof slips out of sight, keeping the vehicle's poised fastback profile with sinuous lines that suggest constant motion.
The RF model made waves when it was launched in 2017, and the 2020 model comes to you today with even more exciting enhancements, including upgrades to its Skyactiv®-G 2.0-liter engine. You'll find joy around every corner with 181 hp, a 7,500 rpm redline, and a limited-slip rear differential.
When you're ready to find your dream 2020 Mazda MX-5 Miata RF for sale, give us a call at (888) 814-7086.
Power and Performance
An impressive 181 hp and revs up to 7,500 rpm might seem like enough to satisfy your need for speed, but the brilliant engineers at Mazda have taken it even further with upgrades like ultra-light pistons and connecting rods, a large throttle-body opening and a free-flowing exhaust system. And you'll get all this without adding any engine weight.
The aluminum power plant frame actually lost nearly 20 percent of its weight from the previous-generation MX-5 Miata RF, creating a more responsive all-around driving experience.
With a 6-speed manual transmission, the MX-5 Miata RF has the short-throw precision drivers love. So you can expect an exhilarating drive whether you're cruising through curves or speeding down a straightaway. There's also the option of a 6-speed automatic transmission with steering-wheel-mounted paddle shifters available.
Innovative Fastback
At first glance, you'll fall in love with the MX-5 Miata RF's flowing lines and teardrop-shaped cabin. And when you're ready to feel the breeze in your hair, the rigid hardtop retracts into the trunk in a matter of about 13 seconds. Possibly the best part is that you don't even have to sacrifice any trunk space.
The lightweight fastback design helps the MX-5 Miata RF maintain the near-perfect 50/50 weight distribution that has become synonymous with the RF model.
Impressive Interior
You'll instantly feel at one with your 2020 MX-5 Miata RF because each part of the cabin, from the placement of the gearshift to the tilt of the seats, has been intentionally designed to work with your body's natural flow. It's clear immediately that the interior is visually pleasing, but over time, you'll come to truly appreciate the joy of its comfortable drive.
Safety
You might be surprised to learn that a few blinking lights can really give you peace fo mind. But the i-Activsense® safety innovations in the MX-5 Miata RF will do just that. Technologies like Blind Spot Monitoring, Rear Cross Traffic Alert, and a Lane Departure Warning System can help you avoid collisions or lessen their impact. With a support system like this in place, you can be confident in your driving experience.
Stay Connected
You can experience the ultimate in mobile connectivity with Apple CarPlay™ integration, which allows you to access important data from your iPhone like maps, playlists, and compatible apps through voice-activated Siri. Siri can also read incoming texts and relay your reply without you having to take your attention away from the road. Android users can also experience similar connectivity through  Android Auto™ integration.
If you're looking for a 2020 Mazda MX-5 Miata RF for sale in Atlanta, give us a call at (888) 814-7086 to schedule your test drive at Jim Ellis Mazda Atlanta today!