2011 Mazda 6 Introduction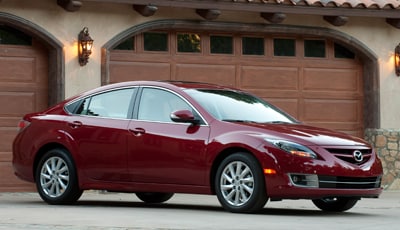 The Mazda6 is one of the most appealing midsize sedans on the market, particularly to drivers who enjoy spirited handling and performance. It looks great, with sporty styling suggestive of a coupe. Inside is a nice cabin with lots of convenience features. There's plenty of room for four adults, and it seats five. And despite the swoopy looks, its has a big trunk. It checks all the boxes as a practical midsize sedan.
But what we like most about the Mazda 6 is its driving dynamics. Underway, it delivers sparkling performance, offering a terrific driving experience among the midsize sedans. The Mazda6 delivers good fuel economy, which has been further improved for 2011. It's also attractively priced.
The 2011 Mazda 6 brings styling revisions and interior upgrades. Changes to the Mazda6 for 2011 include new headlights and fog lights, new folding mirrors with turn signals, new cloth upholstery material, a new steering wheel, and new 17-inch alloy wheels. The Mazda6 Touring model gets Bluetooth, and the Mazda6 Grand Touring gets a multi-information display with rearview camera. Navigation with voice activation has been upgraded for 2011, with a 7-inch touch-screen and rearview camera available for the Mazda6 Grand Touring model.
The 2011 Mazda6 gets better fuel economy from both of its available engines than the 2010 versions did. The Mazda6 was completely redesigned and re-engineered for the 2009 model year. Mazda 6i models come with 2.5-liter four-cylinder engines, Mazda 6s versions get the 3.7-liter V6.
The 2.5-liter four-cylinder has 170 horsepower and 167 pound-feet of torque and is EPA-rated at 21 mpg City, 30 mpg Highway with the 6-speed manual transmission, 22/31 mpg with the 5-speed automatic. That's an increase of 1 mpg over 2010.
The 3.7-liter V6 makes 272 horsepower and 269 pound-feet of torque, delivers extraordinary performance, and is EPA-rated at 18/27 mpg, a 1.5-mpg increase over 2010. We found it a delight to drive, with a 6-speed automatic mated to the most powerful V6 in the class.
Mazda6 competes against an impressive group of midsize sedans. Among them: Toyota Camry, Honda Accord, Chevrolet Malibu, Nissan Altima, Volkswagen Jetta, Hyundai Sonata, Kia Optima. Those who fully enjoy and appreciate the driving experience may find the Mazda6 the most compelling. Competitive pricing may seal the deal.