2011 Mazda MX-5 Introduction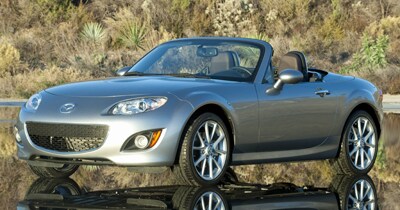 The Mazda MX-5 Miata is a traditional sports car, a two-seat roadster with rear-wheel drive that's fun to drive and priced attractively. It's also easy to maintain, trouble-free, and great on gas. It is a superbly engineered sports car when it comes to acceleration performance, brakes, gearbox, suspension, and cornering.
It's been 22 years since the introduction of the Mazda Miata (believe it or not). Yet in all that time, the character of the MX-5 has not changed. Mazda has developed it nicely, from a mechanical standpoint, updated and improved it in all the right ways at all the right times. Its spirit remains intact. It still puts a big grin on your face.
The Mazda MX-5 is the quintessential affordable two-seater. It is a spectacularly good sports car, rewarding its driver with loads of satisfaction and excellent value. It remains the standard by which affordable sports cars are judged. With a weight distribution of 51 percent over the front wheels and 49 percent over the rear, the MX-5 offers wonderful agility and balanced handling.
The last year for a major change in the MX-5 was 2009, with fresh exterior styling, interior enhancements, a stronger, higher-revving engine and increased fuel mileage. An all-new MX-5 is expected for 2012. The 2011 Mazda MX-5 models carry over unchanged.
The shape is fixed. Sharply sculpted wheel flares appear to be adapted from the high-performance RX-8 coupe, in an example of what the company calls Mazda design DNA. The convertible soft top is Mazda's best yet, and one of the best anywhere. The Power Retractable Hard Top is a cinch to operate, quick to fold, and a miracle of space efficiency. The entire apparatus including electric motors adds less than 80 pounds to an impressively light car.
With a simple vinyl roof, it starts at about $23,000; the soft convertible top operates manually, and it's very simple to use, without leaving the driver's seat.
Loaded with everything, including a convertible hardtop, it barely cracks $30,000. The Power Retractable Hard Top features a composite roof that lowers in seconds at the touch of a button. It offers the advantages of a hardtop over your head, reduced wind and road noise, increased security and a sense of solidity. But it folds completely out of sight for stylish cruising, and not a whit of the driving experience has been sacrificed for the hardtop practicality.
Five distinct MX-5 models, along with two suspension setups and dozens of dealer installed options and accessories, mean lots of choices and potential for personalization. There's a model with cloth upholstery, manual air conditioning, a simple stereo, and a 5-speed manual transmission. On the other hand, there's rich leather, automatic climate control, Bluetooth connectivity, a decent automatic transmission, and Bose audio that remixes sound in real time to account for ambient noise with the top down.
The engine delivers 167 horsepower and 140 pound-feet of torque with the manual transmission, and 158 hp with the automatic. It's got plenty of zing and acceleration for any sports car enthusiast with half a sense of purity. Fuel economy is an EPA-estimated 21/28 mpg with the manual gearbox.