2011 Mazda RX-8 Introduction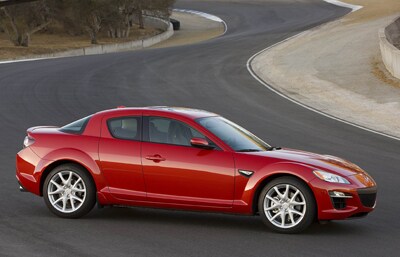 The Mazda RX-8 is a true four-seat sports car. With near perfect weight distribution, it has great balance and precise turn-in. Yet the suspension is soft enough for daily comfortable use. The small rotary engine loves to rev and puts out lots of power. Mazda's lightweight rotary engine is a key design element in producing this light, nimble, high-revving sports car.
The RX-8 is a surprisingly practical daily driver. It's capable of taking the kids to soccer practice, with passenger space for four full-size adults. There's enough room for a weekend's worth of luggage or two full-size golf bags. The small rear doors and relatively spacious trunk make trips to the home improvement center possible. We know. We did it. It's not as roomy as a sedan, but it can move people and cargo when needed. And when it's just you and the open road, it can deliver the driving experience of a two-seat sports car.
The RX-8 is available in Sport and Grand Touring trim levels plus the R3, which features a sports suspension developed for serious enthusiasts.
The RX-8 is unchanged for 2011. The RX-8 was launched as an all-new model for 2004 then was substantially updated for 2009 with fresh styling, a more rigid structure and driveshaft, and revised rear suspension and gearing.
The RX-8 comes with a choice of 6-speed manual or 6-speed automatic with paddle shifters. It's a crucial choice because they are different cars in terms of character. The manual benefits from 232 horsepower at 8500 rpm, while the automatic gets 212 hp at 7500 rpm. Both are rated at the same 159 pound-feet of torque at 5500 rpm. The bottom line is that the manual model is for driving enthusiasts willing to shift for themselves, and those seeking maximum efficiency. The automatic is for stop-and-go commuters who want the look and feel of a sports car.