2014 Mazda CX-5 Driving Impressions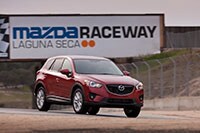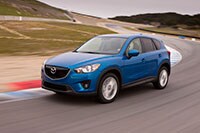 Mazda CX-5 offers a choice of drivetrains. All models offer agile handling and are fun to drive.
The 2.0-liter CX-5 delivered better-than-expected acceleration (though hardly startling). That engine works particularly well for driving briskly along winding roads or cruising on the freeway. The 2.0-liter Skyactiv engine uses a 13:1 compression ratio, which Mazda says is the highest in the world for any production engine. A high compression ratio results in high efficiency and high power, but is difficult to attain with Regular gas without knocking. Mazda achieved this feat by carefully designing the pistons, high-pressure fuel injection, and a fancy exhaust manifold. The result is a broad torque band that delivers decent performance over a wide range of engine speeds.
The new 2.5-liter Skyactiv-G four-cylinder engine delivers stronger performance. Acceleration is quite frisky from a standstill or for passing maneuvers. Hitting the gas while cruising at 40 mph yields an alert, rapid boost in velocity. Despite a hint of engine buzz, the larger engine sounds about right for a compact crossover. Yes, a bit of a roar can be heard when accelerating hard, but even that sounds appropriate. Like the smaller engine, the 2.5-liter uses a racey 13:1 compression ratio.
In mixed suburban driving, the fuel economy of our all-wheel-drive CX-5 Grand Touring with the 2.5-liter engine fell short of EPA estimates, not quite managing 20 miles per gallon.
With either engine, Mazda's Skyactiv 6-speed automatic transmission is exceptionally smooth, reacting promptly and delivering almost imperceptible upshifts and downshifts as load conditions demand. As a set-and-forget device, simply slip the shifter into D and drive; it's hard to fault. But this automatic is not a piece of equipment that invites engagement from those who view driving as more than just transportation. Although exceptionally compact in size, this is otherwise a conventional automatic.
A semi-manual feature allows the driver to shift down by pushing the shift lever forward or upshift by pulling it back. We preferred to put it in D and let it do all the shifting, even when taking a 2.0-liter CX-5 through laps on a race course. The automatic downshifted a lot on winding roads with elevation changes, due to the lack of power; using the manual feature at times can reduce this effect.
The CX-5 Sport's manual transmission is a pleasure to operate with crisp shift gates and positive engagements, arguably the best do-it-yourself gearbox in this class. We found the front-wheel-drive model with the manual gearbox to be the quickest among the 2.0-liter models. We clocked our fastest time on an autocross circuit with the manual, in spite of running on a cool, damp circuit with standing water in places.
We think CX-5's electric power rack-and-pinion steering system is the best in the class. A relatively recent development, electric systems are more efficient than conventional hydraulic units, but tend to be deficient in road feel. The CX-5 system is very good in this respect, with a quick ratio and excellent path accuracy. Mazda explained that its engineers worked hard to tune the system for the proper balance between road feel at high speed and appropriate assist at parking lot speed. It felt precise, intuitive. Few corrections are needed while driving down a bumpy road. We found the CX-5 feels more stable at high speeds than a Honda CR-V does.
The suspension design is typical of this class: MacPherson struts at the front, and a multi-link arrangement at the rear to accommodate all-wheel drive hardware. The suspension tuning tends toward sporty, with minimal body roll by the standards for this class. Combined with the exceptional steering, this gives the CX-5 prompt responses and a sporty feel, qualifying as a plus for accident avoidance as well as driving pleasure. Mazda also gets high marks for achieving the foregoing without sacrificing ride quality. The feel is firm but compliant, and could be characterized as European in character. There is some head toss on bumpy roads, however. The CX-5 felt firmly planted and secure when driving down wet, bumpy, curvy back roads at speed.
We didn't sense a big difference between the 17- and 19-inch wheels. In theory, the taller sidewalls that come with 17-inch wheels should yield a more compliant ride while the 19-inch wheels with short-sidewall tires should offer sharper handling. Handling was responsive with the P225/65R17 Yokohama tires on 17-inch wheels, while the P225/55R19 Toyo tires on the 19-inch wheels felt no worse in terms of ride quality. Some pavement bumps and potholes do hit hard, but that's true of most competitors.
All-wheel drive on the CX-5 automatically apportions power front-to-rear depending on traction conditions. In normal driving the power all goes to the front wheels, but this can vary as much as 50 percent. Like almost all compact crossovers, the CX-5's all-wheel drive function is designed to enhance traction in wet or slushy conditions. Although ground clearance is substantial at 8.5 inches, serious off-roading isn't part of its repertoire. We appreciated the grip and sure-footedness of the all-wheel drive while driving through the rain down a winding valley road. The all-wheel-drive versions felt more stable while driving at speed around a wet Mazda Raceway Laguna Seca course. We recommend opting for all-wheel drive for its improved traction in slippery conditions. If you live in a particularly dry climate, however, you could save a little on the purchase price, get slightly better fuel economy and possibly a somewhat livelier handling feel with front-wheel drive.