2014 Mazda CX-5 Summary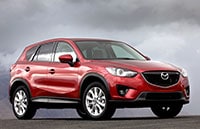 Exceptionally easy to drive, the 2014 Mazda CX-5 impresses us with its fuel economy, comfort, versatility, road manners, styling, and safety features. While acceleration with the 2.0-liter engine is so-so, the 2.5-liter brings performance up to the level set by the CX-5's top competitors, if not beyond. Better yet, with either engine, its agility and exceptionally accurate steering make the CX-5 entertaining on the road. All-wheel drive gives it sure-footed traction and is emphatically the best choice for the Snow Belt. The sportiest setup, however, might still be a front-wheel-drive CX-5 Sport with manual gearbox.
Tony Swan reported from Detroit, with Mitch McCullough reporting from Monterey, California, on the 2.0-liter models. James M. Flammang reported from Chicago on the 2.5-liter Skyactiv four-cylinder engine.