2016 Mazda MX-5 Miata Driving Impressions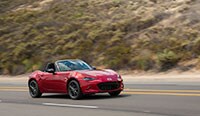 By moving the roll center closer to the driver, Mazda made its latest MX-5 the best-driving yet. Transitioning from steady hard cornering in a left turn on a mountain road to steady hard cornering in a right turn in the Club model is seamless; now we're going this way, now we're going that way.
The tires lose grip gradually when cornering at high loads and the chassis is evenly balanced, so handling is predictable. It's enjoyable, entertaining, satisfying to hurl this car into corners on deserted back roads. Yet it rides nicely and does not beat you up when puttering around in the neighborhood at 25 mph. Even the sport-tuned Club model rides smoothly enough to use as a daily driver.
The Miata does what is expected and never surprises its driver, so car and driver become one. Braking and turning at the same time tends to result in mild oversteer. Even braking through a transient maneuver is easy to control, a benefit of its near-perfect balance.
Power is not excessive. There is no surge of force at high rpm. Torque is lacking. The engine is rated at 155 horsepower and 146 pound-feet of torque. With a curb weight of just 2,300 pounds, however, the Miata can accelerate from 0 to 60 mph in about 6 seconds, a quick performance indeed. More important than those numbers is the joy you get from using this engine. The engine revs freely and smoothly. Blipping the throttle with the side of the foot while braking is wonderfully easy and enjoyable.
We strongly recommend choosing the manual gearbox for this car. It is required equipment for that blipping and downshifting thing we just mentioned. The clutch pedal is light and friendly and the 6-speed manual snicks into gears neatly and easily. Also available is the 6-speed automatic transmission with Sport mode and, though it is not our preference, we found on several test drives that it performs its duties exceedingly well.
Choosing among the three models comes down to what the driver wants from the car. The Club offers the sportiest handling and is the choice of the serious enthusiast, though the ride quality of the Club is not harsh and should be fine for everyday driving. The Grand Touring model is the best choice for cruising along the ocean or enjoying top-down motoring, yet its handling will still satisfy the driver who enjoys spirited motoring. The base MX-5 Sport model has the same suspension as the GT and comes with a cloth top, so the Sport offers the best value for someone who simply wants the joy of a classic sports car.