2016 Mazda MX-5 Miata Walk Around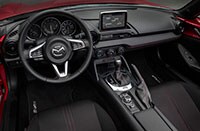 Compared to its predecessor, the new MX-5 has a more curvaceous beltline. The hoodline plunges downward at the front, and a large opening at the front of the car sucks in air like a blue whale inhaling plankton. In many states, a license plate will obscure this opening appearing as a single tooth at the top of the maw.
It is a small, tidy car. After driving it you get out and almost feel like you should be able to slip it into your pocket, like a cellphone, before walking off.
The top is very easy to operate. Dropping the top can be accomplished with one hand even while underway. The same can be said about raising the top. While belted in, the driver can simply reach back, release a latch and pull the top to the top of the windshield. Mazda cleverly engineered some mechanical assistance to the help the driver pull the top up at just that moment where help is needed. Pull it closed. One latch secures it. The whole operation takes less time than it took to read about it.
Interior
The Miata cabin is spartan. The look is classic basic roadster. The pedals and the steering wheel are positioned directly in front of the driver, a rarity of seating precision.
A prominent center console separates driver and co-driver. Big analog gauges and a horizontal instrument panel keep the interior from feeling confining. Air vents and climate controls use the classic round look. Mazda's latest infotainment system display is perched above the low-set dash.