2017 Mazda CX-3 Introduction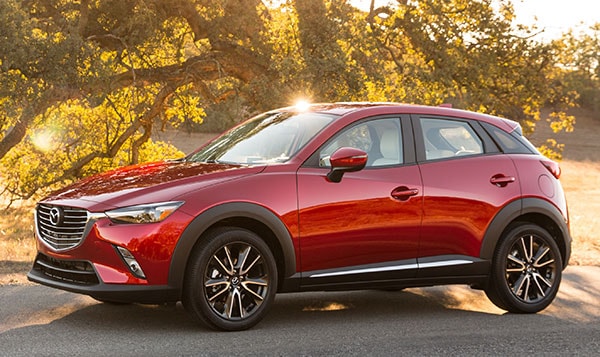 The Mazda CX-3 is a serious contender among subcompact crossover SUVs, a hot category. Sporty, attractive, and practical, the 2017 CX-3 is available at attractive prices and gets great gas mileage.
Introduced for 2016, the CX-3 hasn't changed, apart from placing larger (18-inch) wheels on midrange 2017 Mazda CX-3 Touring models. Its platform stems from the Mazda 2, a subcompact car like the Scion iA no longer sold in the U.S.
The CX-3 is available with either front-wheel drive or all-wheel drive. All-wheel drive comes with predictive features.
All Mazda CX-3 models come with the same powertrain: a 2.0-liter four-cylinder engine driving a 6-speed automatic transmission. Developing a modest 146 horsepower and 146 pound-feet of torque, the engine doesn't sound like a powerhouse, yet it manages to deliver a level of enthusiastic energy and driving fun that's not often found in the crossover SUV world. We found the CX-3 fun to drive.
At the same time, the CX-3 achieves frugal gas-mileage estimates from the Environmental Protection Agency: 29/34 mpg City/Highway, or 31 mpg Combined. Mazda's subcompact ranks among the best in its vehicle class. The Honda HR-V, a recent entrant and strong competitor against Mazda, is rated 28/35 mpg City/Highway, 31 mpg Combined.
In crash-testing by the National Highway Traffic Safety Administration, the CX-3 earned a five-star rating overall, and for frontal and side impacts (four-star for rollovers). One safety concern arose, though: In side-impact testing, the left rear door collapsed into the passenger area, raising the risk for spinal injury. The Insurance Institute for Highway Safety gave the 2016 CX-3 Good ratings in each test, naming it a Top Safety Pick +.
Mazda offers an i-ActivSense group of active safety features, including lane-departure warning, adaptive cruise control, automatic emergency braking, adaptive headlights, automatic emergency braking, and rain-sensing wipers. It's a $1,170 option ($750 less than the 2016 version), but only for the top Grand Touring model.