2013 Mazda 3 Walk Around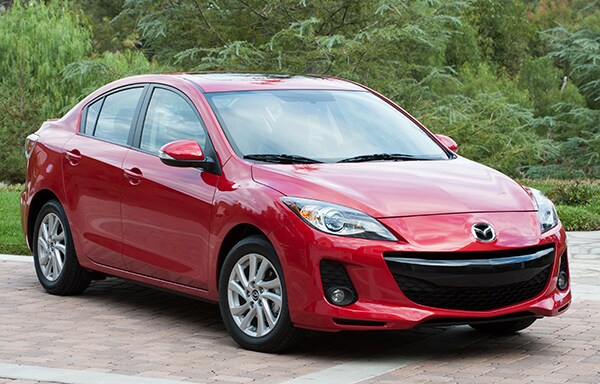 The Mazda3 has a fat lip. The front fascia below the bumper looks great, even if the sporty black air intakes are more cosmetic than functional.
Front fenders are puffed out forward of the wheels. The sedan's coefficient of drag is 0.27 Cd, with the 5-door hatchback at 0.29 Cd. Those are great numbers for a hatchback that isn't also a fastback (like the Audi A7).
Rear bumpers on Mazda3i models are clean and body-colored. On upper trim levels, 16- and 17-inch alloy wheels are sporty and handsome. Thanks in part to those wheels, it looks like it's moving even when it's standing still.
Interior
Every control on the Mazda3 instrument panel is intuitive and easy to reach and use. The center stack is clean, the gauges are clear, and digital information is accessed by a thumb scroll on the steering wheel. In fact, Mazda3 is one of the only cars in its class with standard steering-wheel controls. The digital information is easy to read in the sun, at least in the SkyActiv models, with blue meter illumination. Others have gray, and the Mazdaspeed3 is red.
We drove a Mazda3 with terrific leather seats, and one with cloth seats, same padding and bolstering but firmer, maybe because cloth skin gets stretched more, and leather has inherent cushioning.
The sedan's trunk has 11.8 cubic feet of space, and the hatchback has 17 cubic feet behind the rear seat. The rear seats are split 60/40, and they fold nearly flat, so the cargo space can be expanded enormously.
The 6-speed automatic transmission can be switched to manual mode and shifted with the gated lever. The shift action is another place where Mazda logic rules: the lever goes back to upshift, forward to downshift, as in many race cars, because those directions flow with the g-forces on the body during acceleration and deceleration. It's a feel thing, not a think thing.